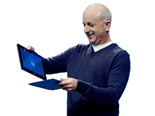 Yesterday Microsoft sent out invitations to "a small event" in New York City on May 20th, and word on the street is that the company will finally be announcing a smaller version of the Surface. From what we're gathering from the rumors swirling out there, Satya Nadella will preside at the event, which is expected to not only introduce a 7 to 8″ member of the Surface family, but perhaps another, as yet unknown, version of the Surface, too. The smaller device is expected to be based on an ARM chip, meaning that it will be running Windows RT, and is widely expected to ship with a stylus, positioning the device as a note-taker.
Rumors have long been swirling about a smaller Surface, and when the Surface 2 experienced production problems and went missing from the shelves late last year, speculation was that those same production problems held back the "Surface Mini". Brad Sams over at Neowin isn't so sure, and has been hearing that the delay of a Surface Mini launch was a "business decision", rather than a supply chain one. Still, Microsoft has been experiencing its share of growing pains in transitioning to a devices and services company, scrambling to build a supply chain while facing intense competition all up and down that chain from the likes of Apple.
Last year, after introducing the Surface in a rare genuine surprise of an announcement (and a rare marketing win and one that may have been Steven Sinofsky's last great act of control freakishness), the company was forced to write down almost a billion dollars as the overpriced devices failed to take off in the market. Of course "overpriced" is a relative term, as by being late once again to the party, Microsoft simply couldn't price the newcomer devices at a price that would make them money and still work its way into the market. Instead of exceeding expectations with a great introductory price and shaking up the market, Microsoft let the bean counters dictate a price that pleased no one but those bean counters themselves, and ended up having to write down the loss. Microsoft would have lost money either way, but ended up looking like losers instead of market leaders.
Now, some 6 months after the target launch or so and a holiday cycle again lost, here comes the Surface Mini, arriving just as tablet sales are slowing down. There's nothing about a pen-enabled mini Surface that fills any particular need any mass consumer audience feels, and nothing to say that while a Surface Mini should fit well into the Surface family, it will sell any better than any other Surface. Nothing, except perhaps a killer price. Could Microsoft price its way into a bit of a positive bump for the Surface? Even that's iffy, but we're about to find out how committed new CEO Satya Nadella is to his "challenger mentality".