In a blog post on the Outlook.com blog today, Microsoft announced the upcoming release of Advanced Rules, which allow you to create "multi-condition" and "multi-action" sets of rules, and you can combine and customize your existing rules and use a number of optional conditions, including several that are unique to Outlook.com: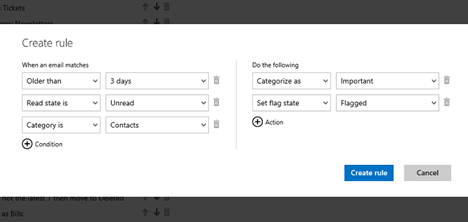 In addition to Advanced Rules, Outlook.com will also be rolling out three other new features, all rolling out beginning today. There's an Undo feature, allowing you to recover a deleted message, Inline Reply, so you can reply to an email directly from the main Outlook.com view without having to separately open the email message, and new Messaging features, including:
•Find recent conversations and other contacts you can chat with in the bottom left of your inbox. One click will launch you straight into a conversation with them.

•If you're chatting with a friend on one service, but want to continue the talk on another service, now you can switch over from right inside the chat session.

•You can now browse your People by filtering what service they're using (Skype, Facebook etc.). You can even see who's currently available–Icons will now appear alongside names, so you know who's able to Video, Call or just chat.
We're not seeing the new features just yet, are you?