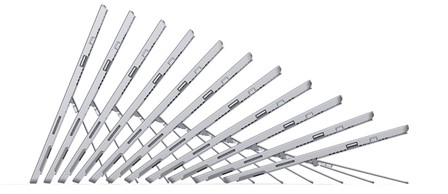 Today in New York City, Microsoft unveiled the Surface Pro 3, a 12″ 3:2 ratio tablet/laptop hybrid that refines the Surface line and comes across as a showcase device for what a Surface and One Microsoft can do together. Rather than bow to pressures to compete directly with the iPad or the iPad Mini (while rumors abounded, there was no Surface Mini announcement), Microsoft instead revealed a device to compete with a MacBook Air / iPad combo. Pointing out that 96% of iPad owners also own a laptop, Microsoft is calling the Surface Pro 3 "the tablet that can replace your laptop", and has seemingly shunned the lowest-common denominator approach familiar to Windows device buyers to instead focus on making Microsoft hardware devices that are best in class.
In doing so, Microsoft has created quite the device in the Surface Pro 3, as long as you're looking for a specific feature set. Starting with an Intel Core i3 /64GB / 4GB RAM for $799 and going all the way up to a Core i7 / 512GB /8GB RAM for $1949, the larger yet lighter devices should probably be thought of as laptops with a detachable keyboard rather than tablets. Battery life is said to be at 9 hours, and while there is a full on Ethernet adapter available, the new Surface does not come with cellular connectivity, making somewhat of a mockery of Microsoft's new "Mobile First, Cloud First" mantra.
If you're like one of the reporters sitting in the front row of the Surface event with a MacBook Air (Joanna Stern thinks she was picked out because Microsoft knew she would be sporting an Air, although she turned out to be a somewhat unwitting co-star of the event), the Surface might be a viable next generation device. Lighter than the Air, with more screen surface area, and fully touch enabled, the Surface is seemingly better at just about everything that the Air can do. As a tablet, it's far more powerful (and able to run full on applications like Photoshop) than an iPad, although without 4G, and all that power using up battery life, it isn't going to be a full on iPad replacement for surfing the web on the go.
Early on in the presentation, Satya Nadella said that Microsoft is not looking to compete directly with its OEMs, and that's a telling revelation. What Microsoft is positioning itself to do with the Surface line, and perhaps with other hardware yet to come, is to set the bar at its highest point, to showcase all that Microsoft can offer. The Surface Pro 3 not only features a pen, but some pretty slick integration with OneNote, allowing you to turn on the device and go directly into note-taking mode with a single click of the top (the "eraser") of the pen. Pen input is built into OneNote in other ways, too, and Surface, OneNote, and the pen all work together to create a sum that's greater than the parts.
Microsoft seems content to go down this road, realizing that it's not going to outsell the iPad, but that it can create a great device on its own terms. If Microsoft can sell enough Surface devices to keep from having to take more billion dollar write-downs, showcase Windows and One Microsoft in ways that the OEMs might not, and position itself as a top quality hardware brand, thinking different could begin to make a lot of sense.
Still, it's hard for consumers and pundits to get beyond bottom line numbers, and we're hard pressed to see the Surface Pro 3 as a big seller. Microsoft wants desperately for consumers to "do more", but the truth is that the iPad is good enough for a large majority, especially when the iPad is less than half the price of a Surface Pro 3. The new Surface might very well be a "MacBook Air killer", for what that's worth, but it's not going to make much of a dent in iPad sales, or create many new markets. Those may have to wait until Windows 9, when Microsoft may reveal a Windows that runs on ARM just like it runs now on Intel, or at least that's what Mary Jo Foley is speculating.
Until then, while the Surface Pro 3 most likely won't rack up big sales, it continues to position Microsoft as a maker of high quality hardware, software that works as easily with touch and pen as it does with keyboard and mouse, and the resources to connect up that hardware and software to the cloud. If you're ready to "do more", the Surface Pro 3 is for you. Are you?