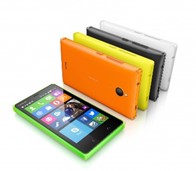 Today, as expected, Microsoft announced significant job cuts as it moves into the new fiscal year and continues to integrate Nokia's phones businesses into the company. The majority of those cuts, some 12,000 over the next 12 months (with 13,000 total cuts coming almost immediately, and the other 6,000 spread out over the next year), will come out of Nokia, or at least will eliminate jobs that have become redundant due to the Nokia acquisition. The job cuts are part of a systemic re-alignment of the Nokia phones businesses as they integrate into Microsoft. Both Satya Nadella and Stephen Elop released email memos announcing the changes, here are the highlights as they relate to phones:
Microsoft is effectively killing the "Nokia X" Android based phones line. The exact wording is a bit murky, Nadella said "we plan to shift select Nokia X product designs to become Lumia products running Windows". We suppose that those other "non-select" designs will just be cut. This does mean that Microsoft will continue to focus on getting Windows running on low end devices, a reason for offering up the Nokia X to begin with.
While Nokia's business model was to sell as many phones as possible, Microsoft has a different focus. From Elop's email:
"It is particularly important to recognize that the role of phones within Microsoft is different than it was within Nokia. Whereas the hardware business of phones within Nokia was an end unto itself, within Microsoft all our devices are intended to embody the finest of Microsoft's digital work and digital life experiences, while accruing value to Microsoft's overall strategy. Our device strategy must reflect Microsoft's strategy and must be accomplished within an appropriate financial envelope. Therefore, we plan to make some changes."
While Nokia has long given Windows Phone its best hope, Nokia's strategies have never been in complete alignment with Microsoft's. The Nokia X is the most glaring example, but the Bing Maps/HERE Maps dichotomy is another, and even Nokia's focus on selling low end phones into areas that would have little use for Microsoft's services is another. Elop goes on to say:
"In short, we will focus on driving Lumia volume in the areas where we are already successful today in order to make the market for Windows Phone. With more speed, we will build on our success in the affordable smartphone space with new products offering more differentiation. We'll focus on acquiring new customers in the markets where Microsoft's services and products are most concentrated. And, we'll continue building momentum around applications."
Microsoft is consolidating Nokia's Smart Devices (Lumia Smartphones, etc.) and Mobile Phones (Asha feature phones running Symbian) into one business unit. Again, Nokia's focus to get a Nokia phone into as many hands as possible, Windows OS or not, has changed.
Microsoft's new selling strategy for Windows Phones is in "making the market". To do that, Microsoft plans to target "the more affordable smartphone segments, which are the fastest growing segments of the market, with Lumia". But Microsoft won't be leaving the higher priced markets out of the picture either, according to Elop:
"To win in the higher price segments, we will focus on delivering great breakthrough products in alignment with major milestones ahead from both the Windows team and the Applications and Services Group. We will ensure that the very best experiences and scenarios from across the company will be showcased on our products. We plan to take advantage of innovation from the Windows team, like Universal Windows Apps, to continue to enrich the Windows application ecosystem."
Nokia's "first phone" business (read: Asha) is now apparently in maintenance mode, according to a report from BGR India:
"This means there will be no new features or updates to services on any Mobile Phones platform as a result of these plans."
According to Tom Warren at The Verge, Nokia's MixRadio is also in "maintenance mode", and Microsoft is in discussions to sell off the Xbox Music-like service to a third party.
Microsoft is making other cuts besides at Nokia. One area that will apparently bear the brunt of the cuts is at Terry Myerson's Operating Systems Group, according to Mary Jo Foley:
CEO Satya Nadella is making the investment of core engineering tools a top priority as part of his new strategies for the company. That means he is prioritizing non-sexy internal-facing tooling for things like source code control, collaboration management, and code sharing across divisions, I hear from my contacts.
Under the new structure, a number of Windows engineers, primarily dedicated testers, will no longer be needed. (I don't know exactly how many testers will be layed off, but hearing it could be a "good chunk," from sources close to the company.) Instead, program managers and development engineers will be taking on new responsibilities, such as testing hypotheses. The goal is to make the OS team work more like lean startups than a more regimented and plodding one adhering two- to three-year planning, development, testing cycles.
Sales and marketing will also be affected, and COO Kevin Turner announced in an email quoted by Mary Jo, that sales, marketing, and services would "reduce our reliance on contingent staff augmentation by over 20 percent year-over-year".
For Windows Phone enthusiasts, the news is generally good. The thorn-in-the-side Nokia X experiment seems to be over, and Microsoft is killing off just about everything that isn't Windows Phone coming out of Nokia. Microsoft is focusing on "platforms and productivity", and while this all sounds good, too, it hasn't worked in the past, and there's not much indication that anything is different this time around. Steve Ballmer once famously shrugged off the iPhone, believing that Windows Mobile's superior capabilities in the enterprise would be enough to hold off the threat coming from Apple. That didn't work, and now, with this week's announcement by Apple and IBM that Apple is getting serious about the enterprise, the job of pushing Windows Phone isn't any easier.
More than that, Microsoft still doesn't appear to grasp the power of the consumer in today's marketplace. Whether you're a CEO or a barista, you still want a cool phone, and that appeal has nothing to do with enterprise features. For Microsoft to appeal to "productivity" is barking up the wrong tree, and it always has been. We've yet to see what new phone capabilities are coming out of Microsoft, and they could indeed make Windows Phone "cool", but that doesn't seem to be the objective, and that's too bad.
In short, an enterprise ready phone isn't going to sell any better now than Windows Mobile 6 sold against the iPhone. We're hoping Microsoft has a lot more up its sleeve than that, or we'll be writing about more job cuts to come.