Bing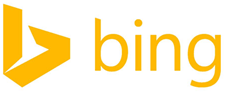 A few years ago when Microsoft rebranded Live Search to Bing, it promised to move beyond the "10 blue lines" that described Google search at the time. In the years since that, search has indeed moved well beyond those 10 blue lines, first with the introduction of Siri …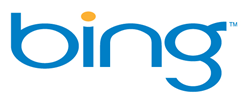 Five years ago, on June 3rd, 2009, Microsoft's search product, which had been known by various names up until then: MSN Search, Windows Live Search, and Live Search, to be more specific, became Bing. That Microsoft was planning to introduce a new brand for search wasn't a secret, …
Cortana, the Bing powered personal assistant now (sorta) available for Windows Phones (if you've installed the Windows Phone Developer Preview and upgraded to Windows Phone 8.1), has already begun to move more broadly into Bing products, including the Bing homepage on the desktop.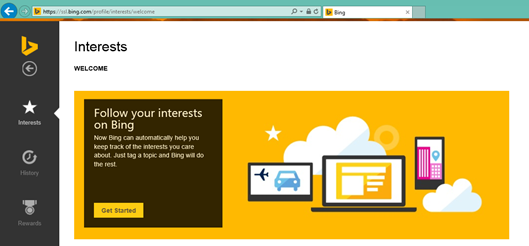 In December, Bing Maps introduced a new version of its on-again, off-again 3D mapping product, the "Bing Maps Preview", this time completely rebuilt from its Silverlight predecessor to now use WebGL, a web standards graphics engine introduced in Internet Explorer 11 (Web GL has been a …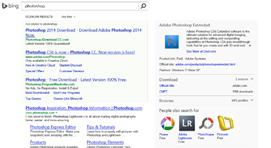 When Microsoft first introduced Snapshots a year ago in May, the idea was to connect the billions of entities and documents on the web with the trillions of relationships between those entities, actions, and people. Microsoft uses technology they refer to as "Satori" to connect those …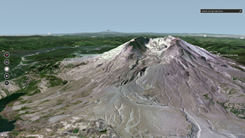 Today on the Bing Search blog, Microsoft announced the availability of a preview of the new Bing Maps experience, the Bing Maps Preview, and you can download Bing Maps Preview from the Windows Store today for your Windows 8.1 devices. Microsoft showed off some features of the …

It started out back in 2008, back when Bing was still Live Search, and Microsoft introduced "cashback", a program to reward users for searching. The cashback program ended, but more or less morphed into Bing Rewards and Bing Offers, offering users ways to gain points or get deals …
In April, Bing added Pinterest pins to image search results, allowing you to "Pin" images directly from Bing to your Pinterest Boards. Pinterest, started in 2010, is a popular image curation site where users can "Pin" interesting items to their "Boards", and then share them across the …
Microsoft has just unveiled their new Bing logo, aimed to integrate the "One Microsoft" vision both from a product perspective and visually. We've actually caught a glimpse of this logo back in April, when Todd Simmons, Creative Director at Wolff Olins, showed off some early prototypes …
Yesterday, Bing updated its Videos section, and now today there's news of another update, this time to …. News. The new look News section is built for touch and features an adaptive design, automatically adapting for your device width whether you're on a tablet, phone, or PC, …
Whilst Microsoft's Bing team have made minor tweaks and pilot tests here and there to their Bing Video search service, this search vertical hasn't received any significant update since 2012. However, today the Bing team announced that they have released a brand new video search experience that …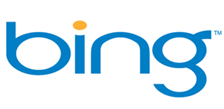 Want to have the job of telling developers that "their baby is ugly"? That's what researchers on Bing's experimentation platform do, according to a post by Dr. Ronny Kohavi on the Search Quality Insights blog titled "Large Scale Experimentation at Bing". The post introduces a research …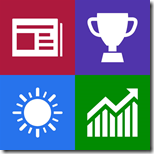 When Windows 8 was released last October, Microsoft released a series of "Metro"-styled Bing apps designed for the Windows Store – Bing News, Bing Sports, Bing Weather, Bing Finance, and Bing Travel. These apps received some significant updates since their initial release, making them even more useful …
When Windows 8.1 shipped last week in preview form, it came with a new search experience called Smart Search, which searches not only your Windows 8.1 machine, but the web as well via Bing. Smart Search is featured prominently on the Windows 8.1 Preview home page: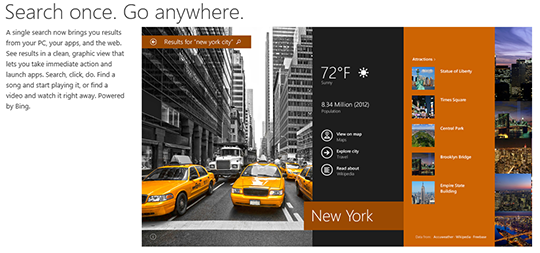 But today, …

One problem with an open and accessible web is that you can get to, copy, and re-use just about anything, regardless of its license.  Up until now, it's been difficult at best to try to do the right thing and restrict the use of images especially to ones …

Among the number of announcements Microsoft made at last week's Build, two stand out not only for their significance, but for their relationship.  For the first time, Microsoft is including the open-source graphics rendering javascript API known as WebGL, and at the same time, re-introducing Bing Maps …
Microsoft continues to try to inch ahead in its battle to catch market leader Google.  This time it's the "Bing For Schools" program, announced today in a Bing Search blog post and accepting requests to bring Bing For Schools to your school at www.bing.com/schools.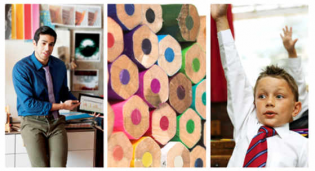 The program, set …
This seems to be a prime week for imitators. Yesterday, Facebook announced that its Instagram was adding an Instagram Video feature, one so much like Twitter's Vine that it prompted John Herrman of Buzzfeed to declare Facebook "out of ideas".  Then, news filtered out that Microsoft had …

Yesterday, at WWDC, among a flurry of Apple announcements including a new, flatter, more "Windows Phone-ish" look for iOS with iOS 7, came news that Apple's Siri will, beginning this fall, return Bing search results instead of Google.  A post on the Bing Search blog goes a little …

Bing Desktop, an application that sits on your desktop and provides instant access to a search bar, news and weather, and even access to Facebook, was first released in beta form a year ago in April.  Since then, over 10 million people have downloaded the app, and …