Bing

Bing announced a new search experience back in May this year which bought it a new sidebar, allowing you to integrate your social networks with Bing and using knowledge from your social networks to find things easier. Only Facebook and Twitter integration were available for the sidebar at …

So it appears that the 165 terabytes of imagery data added to Bing Maps wasn't the only update made to the mapping service. The Verge reported today that Microsoft has rolled out another update to Bing Maps which expanded the availability of Venue Maps to over 30 countries …
Today, on the Bing Maps blog, Microsoft announced its largest aerial satellite and Global Ortho image release ever, totaling 165 terabytes of new imagery live now on Bing Maps.  This single update is larger than the total "Aerial footprint" released up to this point, which measured 129 …
Microsoft released the new Bing last month, giving the search engine a fresher and cleaner look, however many of its search verticals such as Bing Image Search only received the new header, but not an actual update. Today over at the official Bing blog, Jon Noronha, Program …
Caught up in the buzz about Microsoft's "mystery event" yesterday, which ended up being a pretty big deal after all with the unveiling of a new family of "Microsoft Surface" Windows 8 tablets, was a post on the Bing Facebook page, asking "Big things are coming …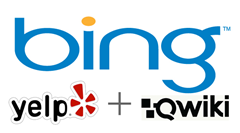 Two pieces of news related to Bing was announced recently, both aiming to bring you a better search experience. The first announcement relates to Bing partnering with Qwiki to bring an interactive and dynamic experience to your search results. For those who doesn't know what Qwiki is, according …
In a blog post on the Bing Search blog today, Bing announced a new partnership with Encyclopedia Britannica to bring Britannica Online answers directly within the Bing search results:
The answer provides a quick overview of the subject, a thumbnail image, and useful facts and figures making it
…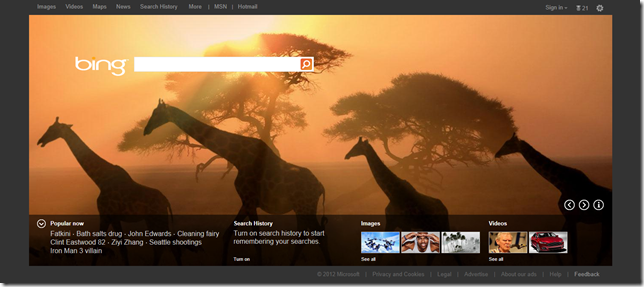 When Bing got the new Metro look in early May, they also unveiled that the homepage will feature larger daily image. Today this new homepage has gone live in US market, check it out here.
Bing also improved the "tiles" on the homepage, which now includes highlights …

Those of you who had been browsing the web in the early 2000s might've remembered Babel Fish, which at that time was one of the best online machine translation service. In 2003, Babel Fish was then taken over by AltaVista, one of the dominant search engines at the …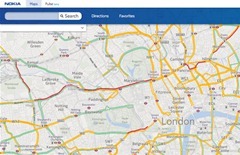 A couple of Bing related news items today, both about other companies extending and improving upon Bing services, with more to come.
First, Nokia and Bing Maps announced the furthering of their partnership on Maps, this time with live traffic information and geocoding, powered by Nokia, now …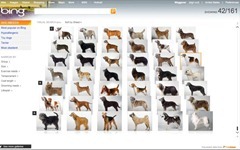 One of our readers (thanks Quikboy!) pointed out to us yesterday that a one-time prominent beta offering on Bing, Visual Search, is no longer available.  Visual Search was first announced at the TechCrunch 50 conference in September of 2009, and described by TechCrunch writer Erick Shoenfield at …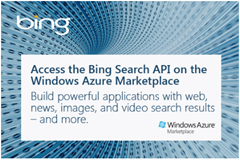 Last month we wrote about some changes to the Bing Search API, used by developers to bring Bing search functionality into their applications.  The set of APIs, which originally were free to use, are moving to the Azure Marketplace and a paid subscription model, initially set at …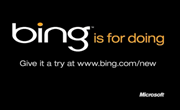 If you're in the US (or can fool your browser into thinking you are), the new Bing, with its double dose of sidebars, is available now, either by opting in to the banner that should be appearing on www.Bing.com, or by opting in at bing.com/new.  If …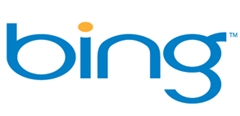 It's that time of the month again when the US search market share numbers come out, and while the three major pollsters (comScore, Compete, and Nielsen, who haven't released this month's rankings yet) don't always agree, the trends usually line up.  This time, at, Bing and Google are …
This morning a number of tech blogs are reporting on what apparently is another test of Bing users, this time with search results opening in a new tab: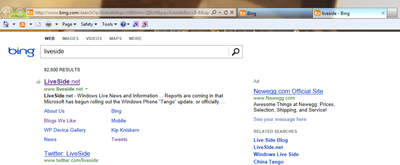 Along with lots of other people around the world, We're seeing it here (on Windows 7 and IE9), and according …
We don't hear as much about Bing Maps imagery updates as we did in the old days when Chris Pendleton gave us regular updates on the Bing Maps blog, but the Bing Maps team is still hard at work updating and expanding Bird's Eye imagery and Streetside coverage.  …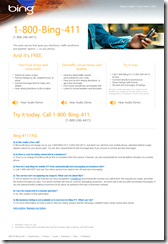 For those in the United States, Microsoft operates a toll-free number called Bing 411 (1-800-BING-411 or 1-800-CALL-411), which allows users to conduct voice search using Tellme technologies. The service allow users to conduct local business search, get driving directions, traffic reports, sports scores, stock quotes, weather reports, and …

When we said goodbye to "Windows Live" today, it wasn't the only rebranding announcement to come out of Microsoft recently: yesterday Microsoft Advertising rebranded itself to "Bing", or "Bing for Small Business".  And of course, being Microsoft, the rebranding has to be a lot more complicated …
After receiving a tip today on (another) new look for Bing (thanks Hector!), we tried it out and sure enough, we're getting a new search results page,  a new header, and a new look for Bing Search blogs, etc.:

As you can see, the header features …
A pair of posts on the Bing blogs today announced some new features for both Bing Maps and the Bing Translator App for Windows Phone.
First, with Bing Maps, the nearly 900 venue maps are now much easier to find, as you can now just click on …