Bing
Finally, after two years as a beta product, Bing has officially launched in Germany, according to a press release ( Bing German to English translation) issued by Microsoft Germany last Friday, January 27th.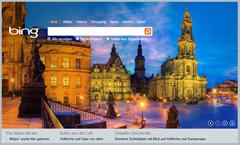 The press release describes the intensive …
Today Microsoft is announcing that it has updated its Bing Get Me There app for Windows Phone for use within London. The app now pulls in transportation data from District Light Railway (DLR), London Buses and Overground services along with …

Pocket-lint, "the largest independent gadget news and reviews site in the UK", scored an interview at CES with Nokia CEO Stephen Elop, who revealed a bit of news about the the future branding for what's now known as Bing Maps.…

There's been a bit of a tempest in a teapot brewing this week as Google introduced what it's calling "Search Plus Your World".  The feature, which in some respects is similar to the way Bing uses Facebook interactions to show …
Looks like the folks at Bing are back at it again, testing new versions of the UI, while not saying much about them or how (or even when) the changes will roll out more broadly.
This latest look seems to …
While marketing tactics like the Bing Holiday Calendar are all well and good, we're waiting for something a bit more substantial, and it looks like we might not have to wait long.
According to a tweet by RK Johnston, a …
For the month of December Bing has created the Bing Magical Holiday Calendar, 31 days, 31 gifts!
Starting off with: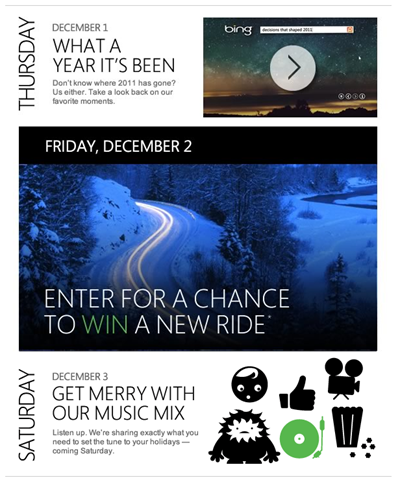 *NO PURCHASE NECESSARY. Open only to legal residents of the 50 US (+D.C.) 18+. For Sweepstakes Official Rules and …

According to a press release from Russia's most popular search engine Yandex, their search product will be replacing Bing as the default search engine on Windows Phones sold in Russia. Below is an excerpt from the press release:
Yandex (NASDAQ:
…
Microsoft today announced that it has acquired California-based company VideoSurf, which provides video discovery technology to customers and enables them to quickly and accurately find the video they want. Their technology is pretty unique in that it doesn't solely rely …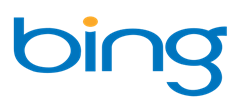 Back in May this year, we first noticed that Microsoft had replaced Bing Map's Streetside panoramic view with Microsoft Research's "Street Slide", which lets users navigate street level imagery sideways rather than a full 360 degrees panoramic view. On May …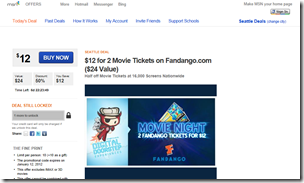 Today we received an email from Microsoft announcing that Bing Daily Deals (http://www.bing.com/daily-deals), powered by Tippr, will soon be rebranded as MSN Offers. As we reported earlier, the service lets you subscribe to daily emails telling …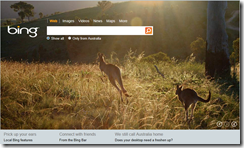 We reported back in May this year that Bing Australia (http://www.bing.com.au) is planned to come out of beta "soon". Well it had been almost 6 months and today Microsoft finally decides to drop the beta tag for its …
As first reported by Microsoft News this weekend, Bing has launched a new service designed to enhance your experience on Bing, officially announced today as Editors' Picks.  By compiling lists of editorially selected sites for certain topics, to …
Experian Hitwise UK, a web analytics company, has today announced that Microsoft is getting close to 4% of the search market in the UK. This news is apparent in the company's latest finding which show that Bing increased it's …
comScore has released its latest US Search Engine rankings, and while Bing had climbed from 8.4% when the rebranding was launched in June 2009, October marks another month where Microsoft's search offering has failed to gain much share.  Bing's …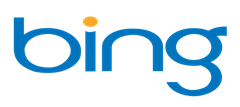 On the official Bing blog today, Microsoft announced two new features rolling out this week to its Bing Maps service which lets you share your Bing Maps results easier than ever – regardless of whether you're sharing it with friends, …
Today Bing has announced a new look for the way you interact with Bing, called Bing Central.  Now, you can manage your Bing Rewards points (and earn new ones in what they're calling "missions"), as well as manage all of …
Bing just announced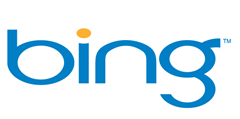 what its calling the "next step in the evolution of Bing for Mobile", combining HTML5 and the mobile web browsing experience and the unique capabilities of app experiences that are now "hiding" within each mobile platform.
The …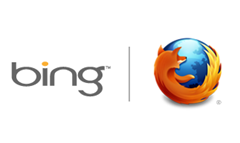 Last year, Mozilla added Bing as a search engine option to Firefox, but today they've gone quite a bit farther, releasing a complete download, Firefox with Bing, available as an option through Mozilla, according to a post on the …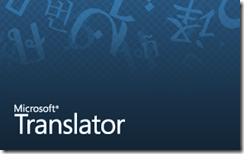 A few weeks ago we told you about a new Facebook inline translation service powered by Bing Translator. Well it turns out there will be more websites joining the ranks of Facebook to integrate Bing Translator on their websites. …