Bing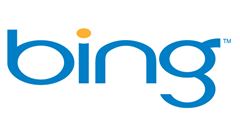 TechCrunch has spotted what apparently is a new offering from Bing, "Bing Deals".  This is a separate offering than the Bing Deals aggregation site we wrote about last month.  While they both appear to be called "Bing Deals" (maybe …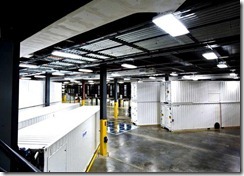 Last week we reported that Microsoft is currently rolling out the "Tiger" search indexing platform for Bing. Well there's more to Microsoft's investments in the Bing back-end platform than just indexing. According to Mary Jo Foley, there's two …
Looks like Microsoft and Facebook's relationship are getting closer and closer. Following reports that Facebook's upcoming Timeline feature will be powered by Bing Maps, we learnt that Facebook is adding a new translation service on its social network, and …
While we're embracing the new features added to Bing recently such as adaptive search, action buttons, or even the new HTML5 video homepage, a group of Microsoft engineers are working tirelessly behind-the-scenes to make sure Bing operates …
A few days ago we just saw the Bing team enabling an HTML5 video background on the Bing.com homepage. Well it appears that a few other HTML5 features are also gradually rolling out on Bing. One of which is …
Today Bing is launching (in the US only, as per their usual) Bing Deals, and instead of firing up their own version of a Deals site, Bing is taking the approach of "harnessing deals from major providers and retailers, including …
Well, it's a start anyway.  Tonight, Bing (and yes, in the US only) has enabled an HTML5 video on the home page, a time lapse video of Grand Teton National Park in Wyoming: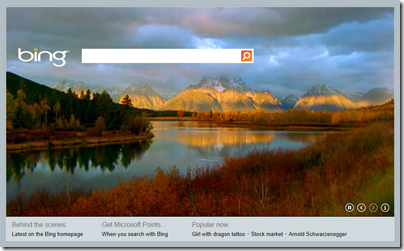 As usual, the home page image changed …
Today at Facebook's F8 conference, Mark Zuckerberg is unveiling some major new changes to Facebook, including the introduction of Timeline, a new way to curate and share your life, via Facebook.
One of the filters available in Timeline is Maps, …
Bing Rewards (or more officially, the Bing Rewards US Preview), a way for Bing users to earn points for searching on Bing or clicking on special searches to earn more points, is celebrating its first birthday today with a special …
Following the launch of Adaptive Search last week, the Bing team has just announced another feature – Action Buttons. Currently, Bing lets users get things done faster on a website by offering "deep links", which are links surfaced in the …
Lots of news about Bing this week, and no, there still haven't been any announcements about Bing HTML5, even after Build.  Everyone from disgruntled former employees to CNN Money to Google exec Eric Schmidt have been weighing in on the …
Bing had been continuously innovating its search algorithms for its decision engine to compete in the search market, striving to bring a more personalized and natural search experience to users. Today the Bing team announced that they are rolling out …
Getting some reports that a new Bing interface, much more than the home page update we reported on yesterday, is starting to surface.  The interface, looking to be quite touch friendly and similar if not the same as what Steven …
Today Bing announced, via Twitter,  its continued relationship with Twitter, and when a couple of Microsoft watchers asked Bing Director Stefan Weitz (via Twitter, of course) when they could expect the long awaited Bing HTML5, he hinted that …
@Bing and @Twitter followers got treated to an interesting back and forth today as Bing and Twitter are apparently ready to announce an extension of their relationship.  Back in July, Twitter ended a relationship with Google to use its "firehose" …
Clicking through the Bing Rewards button on the Bing home page today yielded and interesting discovery, a new Bing Advocacy Program: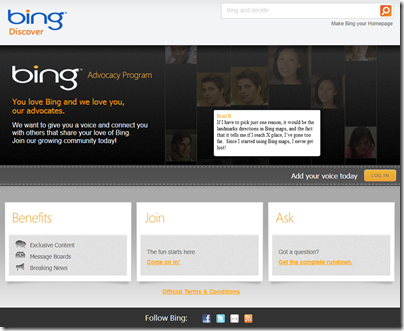 Open to US residents 13 or over, the program is looking for charter members in a new community …
Bing Shopping, available to US users, has made a number of improvements to the experience recently, according to a blog post on the Bing Search blog.  In addition to expanding the number of available products and adding top brands …
A post on the Rimm-Kaufman Group (RKG) blog spotted some new, and perhaps controversial, ad placements on Bing organic search results: the listing of paid ads inline along with organic results, demarked only by an "ad" notifier to the right …
Looks like the on again off again Bing HTML5 rumors may be on again, along with some other quite interesting changes some are reporting seeing to the Bing home page.
First, the home page changes.  Rafael Rivera posted today on …

Bing is partnering with a new 9 week old company, Gigwalk, "the first on-demand mobile workforce" to bring 3D Photosynth panoramas of retail stores and restaurants into Bing Maps.  Gigwalk uses a mobile workforce of iPhone users who download …