Screenshots of the next version of Microsoft Office – often referred to as "Office 15", have begun to surface around the web. Today TheHotFix.net leaked a brand new screenshot showing Microsoft Outlook "15" with an overhaul of the Metro user interface: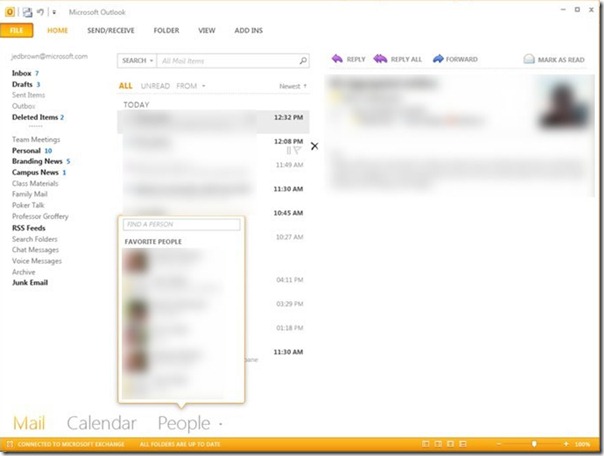 Those who love the Zune software's user interface will definitely love to see the striking resemblance here in Outlook "15". While the screenshot does not show how the "Ribbon" interface will blend in with this new "Metro" UI, this is definitely a great start in blending the beauty of the Metro UI with the efficiency of the Ribbon (or "Fluent") interface.
For those of you who had been using Windows Live Essentials 2011, you would know that most of the applications have already been transitioned to the Ribbon interface (most notably Windows Live Mail, Photo Gallery, Writer, and Movie Maker). With Microsoft Office blending the Ribbon interface with the Metro UI, it would be interesting to see where the Windows Live Essentials apps are going in the next "Wave 5" release, particularly if you consider Windows Live Mail and Writer to be closely related products to Microsoft Outlook and Word. (Not to mention the Zune software might become a Windows Live product too!)
With recent leaks of Windows 8 sporting some elements of Metro UI, and we're already seeing some elements of "Metro" in apps like Messenger, we definitely see Windows Live Essentials going the same path with Wave 5. What do you think about this new UI? Do you think it's the right path to take for Windows Live Essentials?