We have to say we're a bit overwhelmed by the size and scope of the Mango release announcements from yesterday, everything from a new web based Windows Phone Marketplace to a redesigned SkyDrive (can't wait to hear more from Windows Live on this!), to built in Messenger (finally) and lots more.
Well, not quite everything.  Yesterday, sneaking under all the buzz about Mango, Nokia Conversations blogged about the introduction of a new Nokia (Symbian) phone, the Oro: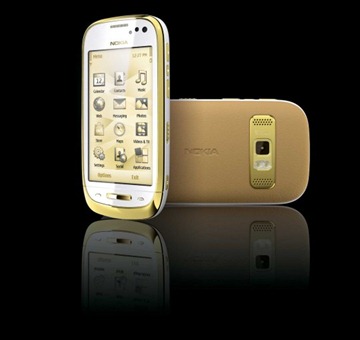 Gold plated, hand stretched leather, pentaband radio connectivity, up-to HSDPA 3G and WiFi, a 3.5-inch AMOLED display, 8-megapixel camera with 720p video recording, let's just say this probably isn't a phone for everyone, but boy could you imagine this with gold colored tiles?
Of course it's not cheap, but it isn't intended to be.  From the blog post:
"Our aim was to use the best materials for the purpose. It's coated with 18-carat gold which has been made scratch-resistant. The leather is from premium Scottish stock. That's a real sapphire crystal in the home key, which makes it eight times sturdier than glass."

Nokia Oro will start selling in selected countries across the Europe, Eastern Europe, China and the Middle East in Q3 2011. Before local taxes and operator subsidies (neither of which you're likely to be too concerned about if you're a customer for this device), it will cost upwards of EUR 800.
So ok, no, we're not really expecting to see a gold plated Windows Phone, but wouldn't that be fun?