Looks like the on again off again Bing HTML5 rumors may be on again, along with some other quite interesting changes some are reporting seeing to the Bing home page.
First, the home page changes.  Rafael Rivera posted today on his Within Windows blog on seeing an addition to the home page he's calling "Live Tiles":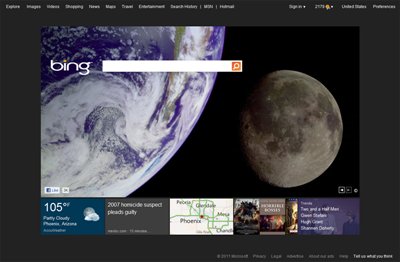 (thanks to Rafael Rivera for taking a screenshot for us)
As you can see, the new look home page features either a "Windows 8" or "Bing for iPad" look, depending on what you want to call it.  Interestingly, the links to "Images, video" etc. are across the top, but the live tiles do seem to take away a bit from the effect of the single home page image.
A quick IM session with Rafael confirmed that he's still currently seeing this version of the home page, but no other changes to Bing as a whole (ie: not the HTML5 changes we spotted earlier).
However yesterday some interesting tweets were spotted coming out of Redmond, indicating that at least a part of the Bing HTML5 experience was being tested again, that HD video of a tropical beach (we're guessing here, we didn't actually see it this time) that was shown at the first hint of Bing HTML5 at Apple's WWDC back in September of 2010.
We've seen "previews" of Bing HTML5 before, it was working for us in early April, but then disappeared again.  We're even seeing some tweets indicating that some of you may be seeing HTML5 bits now, at least some of the time.  Notice anything new and different about Bing?  Let us know in the comments.