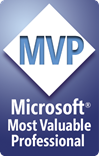 LiveSide.net and the MVP program have a long history.  Before there was a Windows Live MVP program, a group of beta testers who came to be known as the MSN (and later Windows Live) Butterflys served to test and give feedback (on what at that time was quite an onslaught of Windows Live programs and products), and the original members of LiveSide met through those programs.  Some of those "Butterflys" went on to become the first MSN MVPs, and then in turn Windows Live MVPs, including LiveSide contributors Chris Overd, Harrison Hoffman, Scott Lovegrove, Matthew Weyer, and myself.
Along with the twists and turns in the Windows Live program itself, the Windows Live MVP program has had a somewhat tumultuous history, and our relationship with the MVP program was ended after the 2008 award cycle.  Cornelia Koopmans (Sunshine) and PicturePan2 from LiveSino.net were awarded MVPs last year (and reawarded today), and today, I received an email awarding me a Windows Live MVP for 2011 (October cycle).
Of course we'll continue to do what we do here at LiveSide, which is to bring you the latest news and information on Windows Live and Microsoft's online services.  I'm looking forward to becoming re-acquainted with some old friends at the MVP Summit next February, and as always we're looking forward to the next chapters of Windows Live.  Stay tuned!