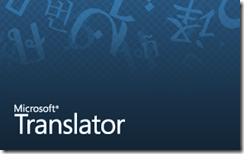 A few weeks ago we told you about a new Facebook inline translation service powered by Bing Translator. Well it turns out there will be more websites joining the ranks of Facebook to integrate Bing Translator on their websites. According to the official Microsoft Translator blog, top global websites including Trip Advisor, Harper Collins, Elsevier, Webster and eBay will be utilising Microsoft's Translator service to bring their services and content to new audiences and new languages globally.
Behind all this is the new Microsoft Translator API – announced during the BUILD conference – which provides a variety of API interfaces to allow websites and content providers to easily translate their content to any of the 37 supported languages on Bing Translator. Here's a description of the Translator API:
The Translator API offers instant text translation, language detection functionality, text-to-speech in multiple languages and innovative collaborative translation functionality. It was designed from ground up for partner use, and thus provides a choice of API interfaces: SOAP, AJAX, HTTP or OData, allowing developers to choose what works best for their scenario.
If you own a website and would like to integrate Bing Translator into your website, head on over to http://www.microsofttranslator.com/dev to find out more. The Translator API is also commercially available on the Windows Azure Marketplace.