Today it was noticed by @CB_27 on Twitter that Hotmail has updated the image on the sign in page of the email service. This new image advertises the mobile apps and experiences available for Hotmail on a variety of platforms. The previous image focused on what could be done with Hotmail in conjunction with some of the other Windows Live services such as sending photos in an email by using SkyDrive to store the photos.
The change of an image might seem a trivial thing for Microsoft to do but this change in image does perhaps point to a change in marketing strategy for Hotmail. The previous image was about informing people what they could do if they signed up for Hotmail and therefore was an attempt to get more people to use the service. However, the new image is more focused on telling people that they can access their emails on mobile devices and therefore has a greater focus on informing the current Hotmail users rather than attracting new users.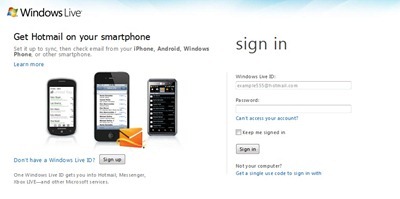 The fact that the iPhone gets centre stage is particularly noteworthy as it shows that even teams within the Windows division at Microsoft can favour a competitor's product over Windows Phone.
The idea that Microsoft is keen to inform the current users of Hotmail's features is encouraging to see and follows the reasoning for the new updates that will soon be coming to Hotmail. A lot of the new features coming to Hotmail have been implemented through feedback from current users of the service. It would seem that Microsoft is more interested in retaining Hotmail users than it has been previously.