As Microsoft announced a few days ago that Office 15 has entered technical preview stage, interests (and rumors) are starting to pick up about the next version of the Office productivity suite, particularly around how it will fit in with Windows 8's new Metro-styled apps model. The Verge reported today that the Office 15 suite might not be as "Metro" as we'd imagine it to be. According to The Verge:
Microsoft's next generation of Office, codenamed Office 15, will receive interface tweaks to make it more touch friendly on Windows 8, including a radial menu system, but won't be rebuilt as full "Metro style" apps using the new WinRT programming model. That's the word according to our sources, who say that the core Office applications will be flatter, feature more white space, and use fewer lines in an effort to focus on content, but that the look will literally be window dressing — Office 15 apps will still be traditional Windows apps underneath.
The Verge mentioned that this is mainly due to timing constraints, given that it would require considerable effort to re-write the entire Office suite to use the WinRT development model. However, it was reported that Microsoft might have two apps successfully ported to Metro-style by the time Office 15 ships – OneNote and Lync – both of which already have an iPad version available in the App Store.
An alleged screenshot of an early build of Office 15 was leaked back in April last year, showing how the new Office might look like: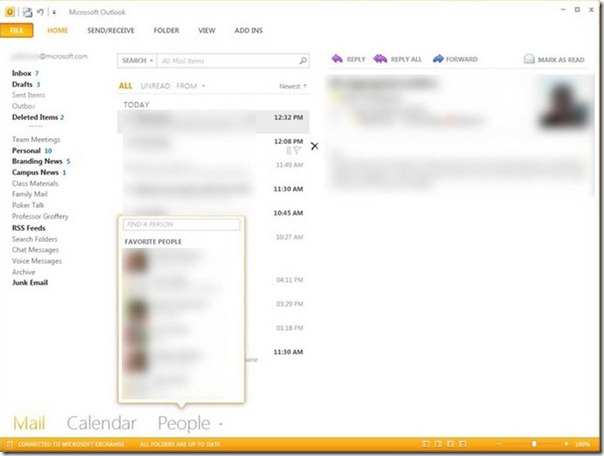 It can be seen above how Microsoft intends to blend Metro into its Office 15 desktop apps, adding elements of a "flatter" interface with "more white space". The new "radial menu system" as mentioned above might be seen in Office Labs and Microsoft Research's InkSeine project, which features a similar radial menu-based navigation for Tablet PCs (of course, the one in Office 15 would be optimised for touch and be more polished). You can check out a video of it below:
[youtube_video]DW1PGq4_7eI[/youtube_video]
One question we've been asking is whether or not Office 15 will run on ARM hardware, given that only Metro-styled apps will work across both x86 and ARM-based devices – "legacy" desktop apps for x86 will need to be recompiled in order to function on ARM-based devices. The Verge heard that Microsoft will be developing a version of Office 15 specifically for ARM-based devices:
We're hearing that the ARM version will also be desktop applications, running in a restricted Windows 8 ARM desktop mode designed for power efficiency.
In fact, during CES 2011 Microsoft showed off a version of Office running on an early build of Windows 8 on ARM hardware, further affirming that ARM-support will be coming for Office 15. With a public beta due "late summer", we can't wait to see what else is in store for the next version of Office.