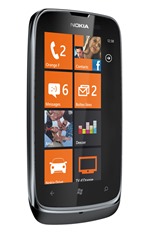 In conjunction with European operator Orange, Nokia announced a version of the Lumia 610 Windows Phone with Near Field Communication (NFC) support. The device, set to launch in the third quarter of 2012, will become one of the first Windows Phone devices to support NFC technology (the other one being the ZTE Orbit). Below is an excerpt from their press release:
Nokia today announced an NFC version of the recently-launched Nokia Lumia 610, the most affordable smartphone in the Lumia range and the perfect introduction to Windows Phone for a younger audience. Orange will be the first operator to range the Lumia 610 NFC, which can pair with NFC accessories and read NFC tags. The Lumia 610 NFC also has the hardware and software enablers for the implementation of NFC payment and ticketing solutions, and has been certified for contactless payments both with MasterCard PayPass® technology, and with Visa's mobile application for payments at the point of sale, Visa payWave.
According to the Nokia Conversations blog, Nokia had to make additional software stack to the Windows Phone OS to enable NFC:
On the technical side, Nokia did this by adding an NFC software stack on top of the Windows Phone platform. The necessary NFC hardware was added into this version of the Lumia 610.
According to blog, NFC on the Nokia Lumia 610 will allow users to read NFC tags to open web pages,  tap on NFC-enabled speakers to directly play music on the device, or pair with NFC accessories, in addition to being able to make payments via MasterCard's PayPass and Visa's payWave. Check out the YouTube video below where Nokia's Lead Program Manager for NFC describes how NFC works on the Nokia Lumia 610:
[youtube_video]Skpt9I-BxYg[/youtube_video]
Nokia will also provide an app called Nokia Tag Writer which will enable users to write content onto the NFC tag on their phone. The current version, available for Symbian, allow users to write phone numbers, text messages, and web page addresses to their NFC tags.
You can learn more about the Nokia Lumia 610 NFC at http://europe.nokia.com/nokia-lumia-610-nfc