Three weeks ago, we exclusively revealed the first screenshot of Windows Live SkyDrive Wave 5, indicating that it will have a similar interface to Hotmail's, with a navigation pane on the left allowing you to access various views of your SkyDrive, presumably with "Quick Views" too. A week later, a screenshot of the full SkyDrive Wave 5 interface was leaked, confirming what we said previously.
We also previously reported that the new SkyDrive interface will replace both Windows Live Photos (http://photos.live.com) and Office (http://office.live.com), having a single interface to manage both photos and videos as well as Office documents stored on the cloud. Today, clues to this has been uncovered with Microsoft updating Windows Live Hotmail Calendar to the Wave 5 M0 version (Build 16.0.1623.0527), which had the new Windows Live Wave 5 header coming along with it: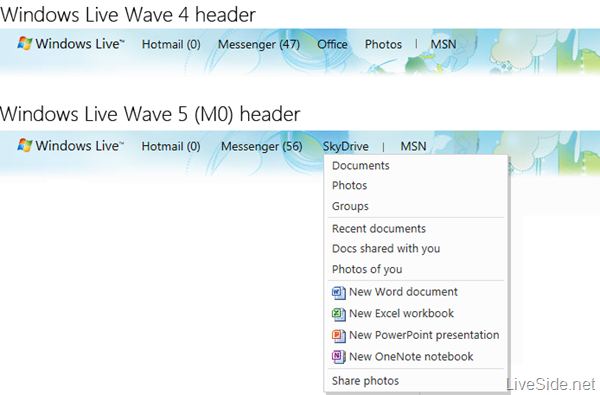 As you can see in the comparison above, only the menus for Hotmail, Messenger, and SkyDrive are now shown, with Office and Photos consolidated under the SkyDrive menu. This is consistent with what Brian Hall (General Manager of Windows Live) mentioned earlier this week, indicating that the three "communication properties" of Windows Live is now simply Hotmail, Messenger, and SkyDrive.
LiveSide has also briefly analysed what we think the future of these three Windows Live properties will look like. Take these with a grain of salt for now, but take a read by clicking on the links below:
You can also check out the new Wave 5 header now by heading over to http://calendar.live.com. But remember, as we've said above, it is coming from the M0 build of Wave 5, so things might change anytime between now and the final version. We understand that Windows Live Wave 5 is currently at M2 (Milestone 2) stage, so there's still a fair way to go until we see a public beta version for testing. Until then, stay tuned at LiveSide as we bring you the latest on Windows Live Wave 5!