July, 2011
Last week, we showed you some changes to Bing Maps, pointing out some new navigation header changes, and noting that at the time there was nothing on the Bing Maps blog to detail the changes.  That changed on Monday, …
At yesterday's WPC (Worldwide Partners Conference) in Los Angeles, Steve Ballmer took the stage to talk about the state of Microsoft and Windows, touching on Skype (saying it will enhance enterprise level Lync communications, not undermine it), Bing (a new …

If you had been closely following LiveSide's Wave 5 and Windows 8 coverage, this is probably not something new to you, but rather an update on Microsoft's current progress with Windows Live. WinBeta.com today reported a status update on the …

An interesting although unsubstantiated rumor coming from The Daily, "an iPad app of News entertainment, culture, opinion, gossip, sports, and tech, delivered every day", that Microsoft, "sick of watching content partners like Netflix and Hulu eat its proverbial lunch", …
LiveSide reader Quikboy noticed that Bing Maps has received a bit of a facelift recently, and the menu for choosing between Road, Aerial, and Birds Eye views has changed:

Included are new, bolder graphics for zoom and direction changes (at …
Yesterday, we told you about an upgrade to Windows Live Essentials that included for the first time support for HTTPS settings in Windows Live Mail.  Included in the update was an updated version of the Hotmail Connector for Outlook, and …
Office Web Apps allows you to create, store, view, and edit Microsoft Office documents in the cloud, either connecting up with your Office installation on your computer, or by using the free web interface, tied to SkyDrive.  Up until now, …
Last week the sign-in page for Hotmail (and other sign-in pages that use Windows Live ID) has changed from multiple user tiles to one account…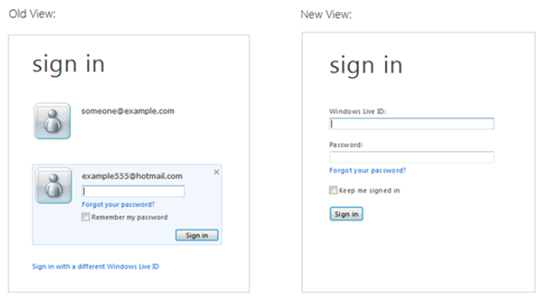 Why? That's a good question. According to Eric Doerr there were some problems with …
Looks like there's a minor update to Windows Live Essentials available starting today, according to a blog post on Inside Windows Live.  From the blog post:
This week, we will release an update to Windows Live Essentials 2011.
…
Kind of a funny deal today as FedEx delivered a package this morning.  We kind of knew what it might be due to a tweet from Paul Thurrott, so out came the camera for the great Hotmail Birthday Cake …

Today, Facebook and Skype announced Facebook Video Calling, basically a "mini Skype client" running within Facebook, allowing you to video chat one on one with any of your Facebook friends.  Our friend Rafael Rivera, already digging through the …
Facebook is set to make a major product announcement today at 10:am PDT (in 5 minutes from this posting) widely thought to involve a partnership or deal with Skype, which was recently acquired by Microsoft (although that deal, while …
HoTMaiL, the first HTML enabled free email service, was launched on July 4th, 1996 by two former Stanford students, Sabeer Bhatia and Jack Smith, making yesterday Hotmail's 15th birthday.
The two sold Hotmail to an investment company and it was …
Later today Bing is set to release an updated version of its popular iPad app, including an improved movie experience, a "swipe through the last 6 Bing homepage images" feature, and hundreds of quality and performance improvements.
What's most interesting …

It's been a tough couple of weeks for Dropbox, the free (up to 2gb, with a paid option for more space) service that promises to easily store and sync "your stuff".  First, on June 19th, Dropbox, owing to a code …

Back in May 2010, we reported a rumor that Microsoft and Baidu were to reach a search deal in China. Today, Microsoft China officially announced the search partnership between the companies, where Microsoft will provide all English-language search results for …
Microsoft discontinued support for the Twitter connected service in Windows Live back in June 2010 due to policy changes made on Twitter's end, and never reached an agreement with Twitter since then to make it available again. During Mobile World …
If you ever tried access Live.com using your mobile browser, you'd notice that most Windows Live web services have a corresponding mobile version that is optimised for touch screens and smaller screen sizes.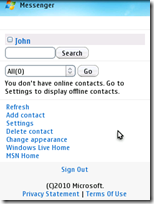 To give you a bit of history, …
Zune Originals, the official online store for Zune devices, has closed its doors as of July 1st.  A page on the site (www.zuneoriginals.net) offers up thanks for all the fish, and continues to throw "damning with faint praise" …
A post on the Games for Windows Marketplace website today was made announcing that Games for Windows Marketplace will be fully transitioning to Xbox.com:

The announcement is also followed by the Games for Windows newsletter, which states:
Games for
…