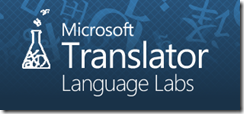 The Microsoft Translator team, which powers the translation service behind Bing, Microsoft Office, Internet Explorer, and recently Facebook and other global services like eBay and Trip Advisor, recently launched a new portal called Language Labs. The new portal features experimental new features and research prototypes from the Microsoft Translator research team, which may one day become an actual service or be integrated in various Microsoft products. As of today, Language Labs provides three experimental features – Contextual Thesaurus, Translator Bookmarklet, and Universal Text Input – for you to try out. We'll go into details of each below:
Contextual Thesaurus
To put it simply, it is an English-to-English machine translation system that lets you explore alternate ways of expressing the same sentence, phrase, or idea. How it differs from traditional thesaurus is that it provides synonyms or near synonyms for words according to its context. For example, try looking up the word "break" in a conventional thesaurus, then look up "businesses are asking for tax breaks" in the Contextual Thesaurus, and you will see the difference.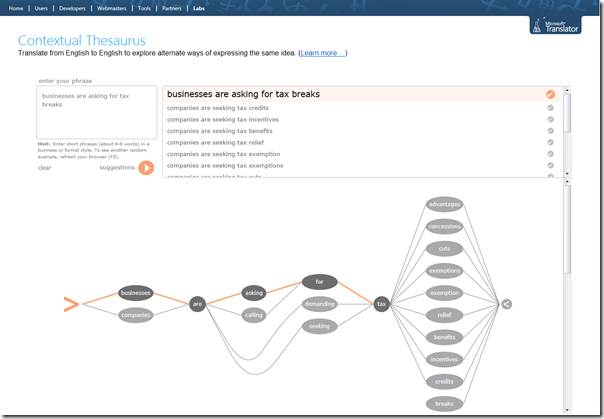 You can try out the Contextual Thesaurus by going to http://labs.microsofttranslator.com/thesaurus now.
Translator Bookmarklet
As the name suggests, this is a bookmarklet which lets you translate any page which just one simple click. The javascript-based bookmarklet works with any browsers, and all you need to do is select your primary language, install the bookmarklet by dragging it to your favorites bar, and invoke the bookmarklet whenever you need it. The webpage will translate on-the-fly using Microsoft Translator without having you to leave the page.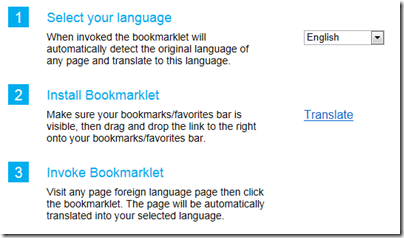 You can try out the Translator Bookmarklet by going to http://labs.microsofttranslator.com/bookmarklet
Universal Text Input (IME)
Long Zheng from iStartedSomething has a nice overview for this service:
For large parts of the world, not only is English not the primary language but the localized text is not even composed of Latin/Roman characters. Besides the fact that most IBM PC-standard keyboards only have Latin characters, it's physically impractical to design one for languages such as Chinese with thousands of unique characters.

That's where Input Method Editors, or IMEs, come in. Now an experimental Microsoft Translator Labs project "Universal Text Input" is beginning to port an IME to the web, independent of the operating system. Currently only a small set of languages are available: Arabic, Chinese, English, French, Greek, Japanese and Russian.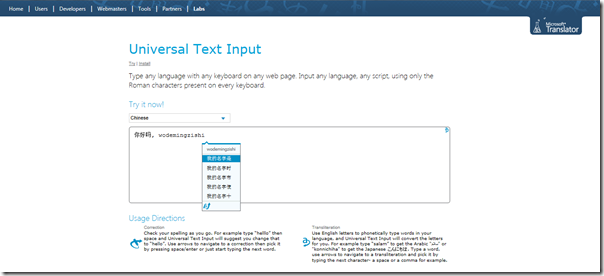 Not only can you try the service on http://labs.microsofttranslator.com/uime, but you can also install the Universal Text Input bookmarklet for your favorite browser (Internet Explorer, Google Chrome and Firefox) so that it works on any text box on the web. Pretty nifty feature!
We expect more features will be added to the Language Labs page over time, so check it out by visiting http://labs.microsofttranslator.com! You can also provide feedback for any of the services by going to the Microsoft Translator Forums.
(Thanks to Leonardo for the tip!)